Our Story
"We're humbled by the trust our customers have placed in us. Thank you for giving us the privilege of being the professional's store of choice for the last 35 years."
- Mendel Mendlowits, Owner and CEO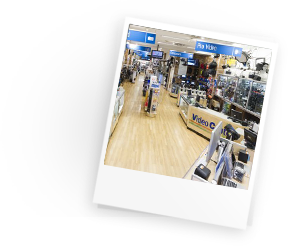 Our goal is to help you capture and enjoy life's most precious moments
Whether you're a top photographer, a beginner, or someone who just wants to enjoy the latest in home theater, you will be treated like a pro. Since 1975, we've never thought of ourselves as just a store. Instead, we've been a silent partner to professionals at almost every news organization, modeling agency, magazine, newspaper, and studio. Our customers have shot some of finest and most viewed pictures ever taken.
At Adorama, we care about your image as much as you do. That's why we guide every decision we make by asking the question, "How do we create the very best experience for you in our store, online, and when you're in the field?" We listen to the things that concern you most and try to anticipate what you need before you need it.
You will get what you're looking for as quickly as possible and it will be in stock
When it comes to fast shipping, we're practically in a league of our own. If we get your order before 8PM ET on Monday-Thursday (Fridays before 1pm), our new, state-of-art warehouse will make a heroic attempt to ship your order the same day you place it.
Provide the lowest prices and best value
Providing the lowest prices possible is in our very DNA. In fact, we even create our own exclusive products to help you enjoy significant savings.
To inspire and teach
We strive to inspire, teach, and help you get the most out of your purchase even after you buy from us. By helping you get the most out of your equipment, we make shopping at Adorama a better choice. It's how we create unique value.
Offer heroic service
From repairs, returns, to complicated international shipping requests, we do everything we possibly can to make you happy and to get your equipment to you even when you're traveling.