Is it time to buy a MILC? If so, Which one is right for you?
The advantage of MILCs over DSLRs:
MILCs offer the benefits of interchangeable-lens photography without the bulk or weight of a DSLR. Eye-level electronic viewfinders are available on most models. At the high end of the spectrum, a pro-level MILC can rival DSLRs in almost all areas, from performance to image quality. While DSLRs still offer the largest selection of lenses and flashes, the two brands that have taken aim at the pro market—Sony and Fujifilm—offer a growing selection of high-quality optics that rival the DSLR selection. At the lower end, cameras offer simplified, point-and-shoot-like user experience, so snapshooters can benefit from the expanded selection of lenses without a steep learning curve.
The advantage of MILCs over compact cameras:
MILCS generally have larger sensors, and therefore produce better quality images, than compact cameras which use smaller sensors that are no much bigger than those found on smart phones. They offer the flexibility of expandable optical systems via a selection of interchangeable lenses, and many offer manual controls over exposure and focusing, but also have auto-everything modes for those who want to keep their photography simple and easy. Most models also offer the same filters and modes that compacts offer.
What makes a camera a MILC?
In DSLRs, the viewing image is projected through a pentaprism or pentamirror housing via a movable mirror so the user can see exactly what the lens is seeing. At the moment of exposure, the lens is quickly, automatically flipped up and the light is projected momentarily on the sensor. The lens can be swapped out for other lenses via a lens mount. This is also true of a MILC, but rather than a mirror-optical viewing system, the image is always projected on the sensor, which communicates a live image to either the LCD monitor in the back, or if the camera has one, an electronic eye-level viewfinder. By removing the mirror, which takes up space, camera makers can reduce the Flangeback (distance from back of lens to sensor) and thereby make the camera smaller, thinner, and lighter.
And camera enthusiasts love it! Some even argue that they've made DSLRs and high-end compact cameras irrelevant, and a growing number of photographers have made the switch.
MILCs, all of which can be purchased in the Adorama Mirrorless Interchangeable-Lens Compact Camera department, can be divided into two categories: Those that have the same sensors found in DSLRs (35mm or APS), those that have much smaller sensors but take advantage of miniaturization to engineer smaller lenses and other features that larger-sensor cameras can't handle. If you want to dice and slice the categories even further, there are MILCs with built-in electronic viewfinders, those that don't, and those that have data ports so you can add a separate, optional EVF.
Prices range from within reach for point-and-shooters looking to kick their image quality up a notch but are intimidated by technology, to enthusiast/pro-level pricing for high-performing cameras that are designed for experienced photographers who like to take total control over their images.
I have been closely following and covering the evolution of MILCs exclusively for Adorama since their inception just a few short years ago. Here's what I think are the best cameras each MILC maker has put forward this year. Many important new models have been introduced recently, and this category remains the fastest-growing and most interesting category of digital cameras. It's very possible that one of the cameras described and reviewed below will be your next.
Canon EOS M3
Adorama price: $479
Overview: Based on Canon's 24.2MP APS-C CMOS sensor—the same found on many of Canon's EOS DSLRs—the Canon EOS M3 brings DSLR functionality to a small package. Canon has created a new lineup of EF-M mount lenses, but the camera is also compatible with EF and EF-S-mount lenses via an adapter. Hybrid autofocus is said to be super-fast, and controls are intuitive and well-laced. For videographers, the camera captures full HD video at 24 and 30p, and has an external mic jack. The camera has built-in Wi-Fi and NFC and can be operated remotely on iOS and Android devices via an app.
The Juicy Details: Self-cleaning 24.2MP CMOS APS-C sensor, ISO range 100-12000, expandable to 25600. Flip-up 3-inch touchscreen LCD with 1040k dot resolution, Creative assist mode for easy image adjustment, 4.2fps in RAW and JPEG. 49 AF points, 30-1/4000 sec shutter speeds.
The System: The Canon Electronic Viewfinder EVF-DC1 offers an eye-level viewing option, and the camera connects to the Canon Connect Station CS100 for storage and file management. You can augment the small but growing line of EF-M lenses (such as the Canon EF 55-200mm f/4.5-6.3, Canon EF-M 11-22mm f/4-5.6, and EF-M 22mm f/2) with Canon EOS DSLR lenses via an additional mount. The camera features a hot shoe, and is fully compatible with Canon's TTL Speedlites such as the Canon 430-EX II.
Test Results (Courtesy DxOMark): Thanks to its larger sensor, the M3 scored quite well in low light, and users can expect noise-free results up to ISO 1200. With 22.8-bit color depth and a dynamic range of 11.8, the M3 scored a 72 overall.
Fujifilm X-T10
Adorama price: $1,099 (with 18-55mm f/2.8-4 lens)
Overview: Fujifilm's X-T10 features a high-resolution electronic viewfinder, an outstanding sensor that delivers some of the best images we've seen from an APS camera of any kind in our field tests, and practical "old-school" marked shutter speed and EV knobs, that make it easy for experienced photographers to control exposure manually. The EVF is housed in an SLR-styled "prism" holder, giving it a DSLR look and feel. A next-generation X-Trans sensor, improvements in focus acquisition and lag time, and improved ergonomics make this a classy, classic-feel camera for serious shooting.
The Juicy Details: 16MP X-Trans CMOS IIAPS sensor with randomized pixels, 3-inch 1.04 million dot resolution LCD, 2.36 million dot EVF, ISO range 100-51,200, in-camera RAW converter, film simulation modes, artistic filters, AE, 2,360k-dot EVF, 3-inch 920 dot flip-up LCD, Dynamic Range and Film simulation bracketing, 8fps burst mode, full HD movies.
The System: Fujifilm currently has five cameras and over a dozen X-mount lenses on the market, and it's growing fast. Zeiss has also unveiled X-mount lenses. There are also adapters that will let you mount other manufactuers' lenses on X-series cameras.
High-end/Low-end alternatives: The rangefinder-like X-Pro 1 is a camera of choice for street shooters and photojournalists, while the X-A2 offers great value for snapshooters in a stripped down package.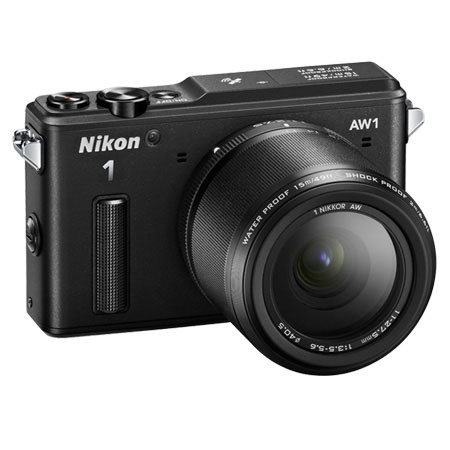 Nikon 1 AW1
Adorama price: $796.95 with 11-27.5mm AW lens
Overview: The Nikon 1 AW1 has become the most popular of Nikon's 1-series of interchangeable-lens compacts thanks to its combination of compact size, fast performance, surprisingly good image quality, and a rugged construction that allows you to submerge it down to 49 feet. It focuses fast via a unique hybrid focal plane 23-point phase detect and 135 contrast detect areas, this is the most responsive-focusing camera I've ever held in my hands. The camera is a speed demon, with blazingly fast rapid-sequence burst rates and the ability to simultaneously capture full HD video and full resolution still images. A small but growing portfolio of super-compact interchangeable lenses are available as well as flash and EVF modules. Yeah, I know: it has a small sensor, but image quality at lower speeds is excellent. The Nikon 1 series is about speed and compactness, and in both of those areas, it exceeds expectations. Available in White, Silver, and Black.
The Juicy Details: 13.2x8.8mm 14MP CMOS sensor, CX-mount lenses with 2.7x 35mm crop factor. Waterproof to 49 feet, freezeproof to 14 degrees F, shockproof to 6.6 feet. Built-in GPS. 15fps burst rate in AF mode, 60fps in fixed focus. Slow motion video clip capture, full 1080p HD video, RAW and JPEG still image capture. Top shutter speed 1/16,000 sec, ISO range 160-6400, hybrid phase/contrast detection AF system with up to 135 focus areas.
The System: Works with all Nikon 1 mount lenses, but can only be used underwater with AW marked lenses: Nikon 1 AW 10mm f/2.8 or Nikon 1 AW 11-27.5mm.
Test Results (Courtesy DxOMark): The Nikon 1 AW1's image quality test results show that it is about the same as other Nikon 1 models, and despite its small sensor it maintains clean image quality through ISO 400. Overall, a respectable result.
Olympus OM-D E-M5 Mark II
Adorama price: $999 (body only)
Overview: The Olympus OM-D EM-5 Mark II has a DSLR look and feel, and with its next-generation Micro Four Thirds sensor produces image quality comparable to some DSLRs. Powerful in-camera Image Stabilization is said to provide 5 stops of compensation, which is great news when shooting at slower speeds. The camera's body is waterproofed and durable, and built-in creative features include "Photo Story" (a montage you can immediately share on facebook), HDR, and art filter shooting with lots of customization.
The Juicy Details: New 16MP Live MOS Four Thirds sensor, TruePic VII image processor, no low-pass filter, dual phase/contrast AF, 5-axis image stabilization, microphone jack, X-sync socket, shutter speeds 60-1/8000 sec plus bulb, burst rate to 10fps, dust, splash and freeze-proof magnesium alloy body, 2.36 million dot resolution EVF, flip-out, touchscreen 3-inch LCD, built-in Wi-Fi with geotagging, focus peaking, 324-area multipattern metering, 81-area multiple AF, QR connect, many in-camera art filters, in-camera RAW and JPEG editing, HDR bracketing, 1080p HD video with time-lapse option.
The System: Fast-growing ecosystem includes a growing line of lenses, flash units and separate EVF viewfinders. Can cross-pollinate with Panasonic since the two systems share the same lensmount.
Test Results: (Courtesy DxOMark) With the Olympus OM-D E-M5 II, and you can confidently shoot at ISO 800 and get high-quality, virtually noise-free results. Dynamic range of 12.4 stops and 23-bit color depth are also excellent results.

Panasonic Lumix GX8
Adorama price: $997.99
Overview: Sporting an uber-retro design, the LUMIX GX8 features a new 20-megapixel, micro four-thirds sensor and in-body image stabilization capabilities for exceptional image quality. It's the first MILC to capture 4K videos, and has a 4K photo option that lets you shoot stills at a high burst rate of 30fps. Durably built, the GX8's magnesium alloy/full dyecast front and rear frame is tightly sealed against water and dust. The camera has convenient aperture and shutter speed dials and programmable buttons.
The Juicy Details: 20MP Micro Four Thirds Sensor, built-in Live Viewfinder with 2,360k dot resolution, 4K/60fps video capture, 22 filter effects, PASM modes available in still and video shooting modes, in-camera optical image stabilization, focus peaking and magnification windows, built-in Wi-Fi and NFC, 1728-zone multi-pattern metering, top shutter speed of 1/8000 sec, tiltable 3-inch 1040k touchscreen monitor, magnesium-alloy body, contrast AF focus.
The System: 14 lenses for Four Thirds and Micro Four Thirds. DMW-FL220, FL360 and FL500 flash; DMW-MA1 adapter for Four Thirds lenses; DMW-MA2M adaptor for Leica M-mount lenses. The camera can also take Olympus and independent-brand lenses as well as a myriad other lenses via a variety of adapters. Just keep in mind there's a 2x magnification factor if using lenses designed for larger-sensor cameras.
Test Results: (Courtesy DxOMark): With an overall score of 75, the GX8 delivered image quality that rivals many APS-sensor cameras. Expect clean images up to ISO 800, with a very good dynamic range of 12.6 stops and 23.5-bit color depth. Overall, it's an impressive performance.
.
Low cost alternative: If the compact Panasonic GX-8 is too big for you, consider the Panasonic GM-1 ($389, body only), currently the smallest MILC available. The Panasonic GM-1 has a 16MP Micro Four Thirds sensor that measures 17.3x13mm, a touchscreen interface, and a full set of features typically found on much larger cameras.

Adorama price: $379.95 with 5-15mm zoom lens
Overview: The fifth-generation Q series MILC from Pentax, the Q-S1 is one of the smallest and lightest interchangeable-lens cameras in the world. Pentax chose a small sensor for this camera in order to make Lilliputian-sized interchangeable lenses to match its tiny, fashion-forward design. It comes in a variety of colors, but inside offers big-camera features such as full 1080p HD video capture, sensor-based Shake Reduction, custom image tools, and internal dust removal. The camera is also designed to appeal to snapshooters, offering auto picture mode and the ability to focus selectively without needing to know about aperture and depth of field. Available in several color combinations.
The Juicy Details: 1/1.7-inch 12MP CMOS sensor, Q-mount lenses, shutter speeds 30-1/2000 sec, 3-inch LCD monitor, ISO up to 12,800, in-camera RAW image processing, HDR capture, built-in flash, sensor-shift shake reduction, customized quick dial, up to 5fps burst rate, contrast detection AF, face detection, digital filters (toy camera, high contrast, shading, HDR, posterization, etc.)
The System: 27.5-83mm (35mm equivalent) f/2.8-4.5 standard zoom lens; 35mm equivalent f/7.1 Toy lens; 17mm equivalent Fisheye lens, Pentax 01 8.5mm f/1.9 Standard Lens, Pentax 08 3.8-5.9mm wide zoom lens 100mm equivalent Toy Telephoto lens; Pentax Fisheye Lens, External Viewfinder O-VF1; 100 PL polarizer Filter. See all lenses for Pentax Q series.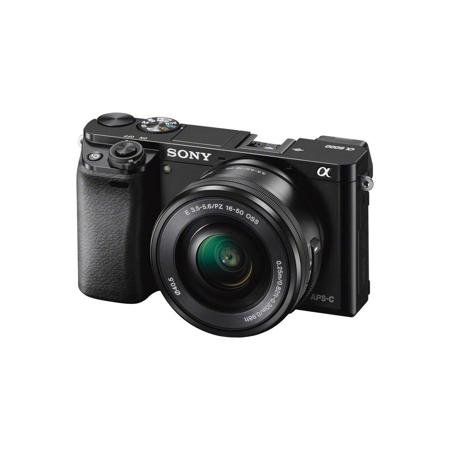 Sony Alpha 6000
Adorama price: $648 with 16-50mm lens
Overview: Sure, the Sony A7 series is a groundbreaking MILC because of its full-frame sensor, and if you're interested in pro-level results and have the budget, it is definitely worth looking at. But I chose the Alpha 6000 for this round-up because its outstanding sensor, light weight and low price have made it one of the most popular MILCs on the market. Highly customizable, and equipped with an eye-level viewfinder, it is claimed to have the world's fastest AF acquisition time at 0.06 second. It has a flip-up/down LCD monitor, shoots HD video, has a rapid 11fps burst rate, and is compatible with a growing number of Sony E-mount lenses. In my Guided Tour I described the Alpha 6000 as a "sports coupe of a camera."
The Juicy Details: 24MP APS-C sensor (23.5x15.6mm), RAW & JPEG, 179 AF points, 11fps, Wi-Fi, NFC, ISO range 100-25,600, 1080/60p HD video, OLED viewfinder, phase/contrast detection AF, shutter speeds 30-1/4000 sec, up to +/- 5EV exposure compensation.
The System: Wide array of E-mount lenses including the new Sony 90mm f/2.8 Macro, 35mm f/1.8, 55-210mm f/4.5-6.3. Shoe mount flashes include the HVL-F60M wireless.
Test Results (Courtesy DxOMark): With a overall test score of 82, dynamic range of 13 stops and low-light ISO rating approaching 1600, the A6000 doesn't just match other APS sensor DSLRs. In some cases, it beats them.