Flower Photography: Going Creative
Allen Rokach
Registration deadline for this Workshop is June 4, 2012
Course Description: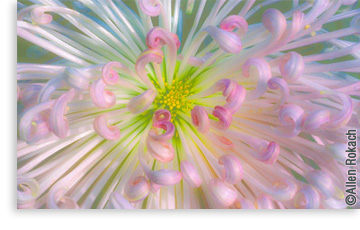 Digital photography has opened many doors to creativity and self-expression for photographers. As an expert in flower and garden photography, Allen Rokach has been exploring new ways to use digital camera gear and software to create floral images like you've never seen before. Using his own photographs to illustrate this lecture, Allen will discuss a variety of the camera and after-capture techniques he has developed to go creative with color, exposure, movement and composition that you can apply for your flower and garden images. By the end of the lecture, you should have plenty of ideas to inspire your own vision.
Here are some of the topics Allen will discuss:
How to develop a vision-centered approach to flower photography
When to trust your camera's automatic settings and when to override them
How to use your histogram to get the exposure you want for colors
When to opt for aperture-priority and when to lock in your shutter speed
Making natural light your ally
How to use a flash unit to add the right amount of light in the right place
Close, closer, closest: What equipment to choose and what settings to use
Knowing what to keep sharp and what to blur
Using depth of field as a creative tool
Variations on working with movement
Refining and transforming your images through simple after-capture techniques
Join us for tonight's presentation, geared for both the budding and seasoned photographer, it will be an inspirational and indispensable guide for you to learn how to photograph flowers in more imaginative and striking ways.
Biography:

Allen Rokach
Allen Rokach has spent more than thirty years traveling the world on outdoor photography assignments for publications and corporate clients. His special love and expertise is nature, garden and flower photography, which he nurtured during his twelve years as the staff photographer and Director of Photography at The New York Botanical Garden and his ten years as a Senior Photographer at Southern Living magazine. With his wife, Anne Millman, Allen co-authored scores of articles and eight books on photography, including the award-winning "Focus on Flowers: Discovery & Photographing Beauty in Gardens & Wild Places," of which the New York Times Book Review said:
"The photographer's eye is keen and unhackneyed. . . Mr. Rokach provides . . . beautiful, often haunting pictures."
Allen has taught at numerous workshops, including the International Center of Photography, Santa Fe Photo Workshops and his own Center for Nature Photography.
To see more of Allen's work, visit: allenrokach.com
Register:
Price: $35.00
Schedule: Tuesday, June 5, 2012 5:30PM - 7:30PM
Location: The Adorama Building, 42 West 18th Street, 5th floor for the critique session..