Mastering Multiple Flash Units Off-Camera
Arlene Collins
Registration deadline for this event is April 3, 2012
Event Description: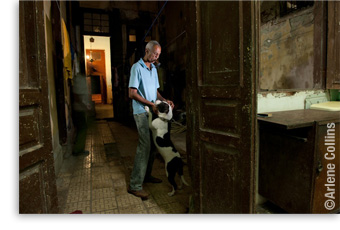 This Workshop with Arlene Collins will teach you how to master your wireless flash system to create a studio lighting set-up, and to light an environmental portrait on location.
Imagine traveling with a complete studio lighting set-up that includes several compact strobe units, light modifiers, clamps, and stands all in one small camera bag. Nikon and Canon systems allow for easy use of wireless off-camera strobe units and multi-strobe setups. These systems seem complicated but in fact are simple to use, if you know how. Now you can create a studio lighting set-up on location with on-camera compact strobe units, which is completely wireless.
Arlene will explain and demonstrate how to use Nikon's and Canon's:
Built-in flash unit in the transmitter mode
How to use your off-camera flash units in the master and remote/slave modes
How to control your remote/slave flash units from your master flash unit
How to use transmitters
During this Workshop, you will photograph a model using your wireless strobe system with various light modifiers such as umbrellas and soft boxes. Arlene will show you how to work efficiently when lighting on location, and you will come away from this Workshop confident with your lighting skills and free to be more creative with your lighting.
The Workshop is limited to 14 participants and is designed for Nikon and Canon shooters.
This Workshop is the next step after Arlene's 'Mastering Flash: On-Camera and Off', a Workshop we offer regularly.
Requirements:
Participants must be able to use their camera in the manual exposure mode, have at least one flash unit that can either be used as a master and/or remote or slave unit.
Bring your camera with a fully charged battery, lenses, memory card, your flash unit (or units if you have more than one), fresh batteries for all your flash units, the stand that came with your Nikon or Canon flash unit and all flash accessories that came with your flash unit (these could include flash filters and a dome), flash extension cord, transmitter and all your camera and flash manuals.
And bring items for note-taking during this Workshop.
Level: Advanced Beginner and up
Here are links for participants to review before class:
Nikon users:
Canon users:
Biography:

Arlene Collins
Arlene Collins is a New York City based photographer, educator, lecturer, and freelance technical consultant, who specializes in editorial, documentary and commercial photography. Her strengths include teaching technique, composition, editing, night and low light photography and the use of compact strobes on location.
Arlene studied with renowned photographers, including Lisette Model. She earned her MA in Media Studies from The New School and a MFA from Hunter College in New York City. Arlene is on the faculty of Parsons School of Design and the Maine Media Workshops, and for over 15 years taught at the International Center of Photography in New York City. Internationally Arlene has lectured and taught at The Centro de la Imagen in Mexico City, ROSPHOTO the Russian State Photography Center in St. Petersburg, Russia, Jerusalem Out of Focus in Israel, The Burmese Photographers Association in Yangon, Myanmar and at the Istanbul Photography Center in Istanbul, Turkey. In New York City, she was a panelist on the Night Photography Seminar at Photo Plus, and has reviewed portfolios at Photo Plus, The New York Photo Festival and for the Society for Photographic Education.
Arlene's photographs have been published in The New York Times and World Press Review, and her Boxing photographs are in the permanent collections of the Museum of New York City and the Brooklyn Museum. Her photography advice was featured on cnn.com/travel, and her travel photography workshops have been featured on CNN/headlinenews/travel and in Travel and Leisure magazine.
In 2008, Arlene curated 'From Afar: Documenting Traditions, Witnessing Transitions' at the International Center of Photography Education Gallery. She also curated 'Heaven and Earth' a 2007 group exhibition at Gallery Chateau in New York City, featuring photography from the participants of her Ladakh, India photography workshop. Arlene continues to travel extensively, teaching workshops around the world, from Papua New Guinea to Mali, and numerous locations in Asia, Africa, and Latin America, most recently she taught a group in Cuba, and has upcoming trips planned to Norway, Ethiopia and more.
Her web address is: www.arlene-collins.com
Register:
Price: $60.00
Schedule: Wednesday, April 4, 2012 5:30PM - 8:30PM
Location: The Adorama Building, 42 West 18th Street, 5th floor.