Doug Gordon: Fashionable Weddings
Doug Gordon
Registration deadline for this event is June 17, 2012
Event Description: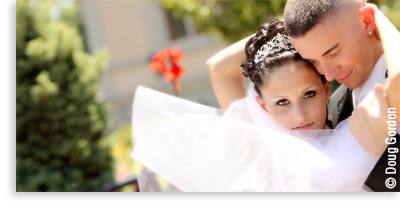 Start the wedding season with this action-packed presentation and shooting Workshop event with Doug Gordon. Known for his energetic and 'from the heart' style, Doug is back to share his passion with photographers who want to take their photographic and business opportunities to the next level.
This seminar promises to be a 'no holds barred' adventure packed full of dynamic information that will put you ahead of the game. See Doug's camera techniques, as you shoot along side him, learn his lighting, his compositions, his "Posed but Look Natural" methods and also how he shoots for the perfect storybook album. Discover and experience every pose imaginable before your eyes. This program will focus on real content, practical tips, and advice that will prove applicable no matter where you find your business!
Class size is limited and all Doug's classes are sold out very quickly--so don't miss this one!
Requirements:
Doug says, there aren't any special requirements, just 'Bring your camera, one longer lens of your choosing, and an open mind.'
This Workshop will include both a classroom session and an outdoor shooting session.
Biography:

Doug Gordon
As a second-generation photographer, Doug Gordon has been honing his artistic skills for almost 2 decades. He has been around weddings since the young age of eleven when he begun his apprenticeship with his dad Ken. Doug continued his training for many years with photography legend Monte Zucker. As the lead photographer and owner of Patken Photographer Inc., Doug heads up a close knit team of associate photographers that specialize in capturing life, and his extremely cutting edge style at nearly 800 weddings per year internationally. Doug continues to aggressively change and grow. While his work continues to garner international awards and media attention being featured in many magazines including Rangefinder, Storyteller, Professional Imagemaker, InStyle, and Martha Stewart, just to name a few. His work has been described as a fashionable, editorial style of today's wedding.
At the young age of 35, Doug has photographed at more than 3500 weddings internationally as well as capturing on film several celebrities and athletes at a wide array of weddings and social functions. His weddings span all over the world from Mexico to Manhattan, Canada to Europe. His detailed approach and stylish portraits are the reason he is one of the most sought after photographers in the world.
His awards and accolades while too numerous to list all of them, include some very prominent ones. At the age of 21 Doug became one of the youngest Certified Professional Photographers ever, He also has been awarded the degree of Photographic Craftsman from PPA. As well as the Artist of Photographic Mastery, Accolade of Outstanding Photographic Achievement, Accolade of Exceptional Photographic Achievement and the Accolade of Highest Photographic Achievement from WPPI. Also in 2007 Doug was awarded the Accolade of Lifetime Photographic Excellence, becoming one of the youngest ever to achieve this award.
He has recently been awarded with the Fellowship of Photography from the famed British Photography Association SWPP. In 2006 Doug was hired by the world's leading cruise line Carnival to be head photo consultant. Also in 2006 Doug's NY based studio became the first wedding studio opening franchise studios around the US.
As a leading expert in the industry, Gordon has been a sought after as an inspirational lecturer and educator on the latest trends in photography. Since 1998 Doug has spoken in almost all the major cities across the United States, as well as several others worldwide in which he reached tens of thousands of photographers with his message of 'Dare to be Different'. He has been a featured speaker at PPA, WPPI, SWPP, PhotoPlus and SPD's conventions.
Adorama, Asuka Book, Bay Photo, Eventpix, Tamrac, Quantum Instruments, Denny and many others currently sponsor Doug.
To see more of Doug's work, visit: www.douggordonworkshops.com
Register:
Price: $59.00
Schedule: Monday, June 18, 2012 11:30AM - 5:00PM
Location: The Adorama Building, 42 West 18th Street 5th floor.