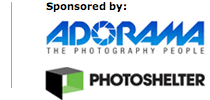 Killer Photography Websites:
Building & Marketing A Website That Photo Buyers Will Love
Grover Sanschagrin, Founder, VP of Business Development, PhotoShelter
All registration is handled through PhotoShelter, RSVP by email to specialevents@photoshelter.com
Program Description:
Which half of your brain makes decisions when building your website? The artist or the photography business owner? Hopefully a healthy mix of both. Too often, however, photographers don't keep their clients' needs in mind when designing a website – an important business tool. If you're interested in marketing your photography business better online, and you're using your website to generate image sales or new assignment work, this session is for you.
Get schooled on what commercial and editorial image buyers really want in a photographer's website. Grover Sanschagrin, PhotoShelter co-founder and photographer website guru, will discuss the designs and features that will help grow your business online. PhotoShelter recently surveyed 550 + global image buyers at magazines, ad agencies, newspapers, design firms, corporate design groups and more – and learned all about the designs and features that your clients feel most passionate about. He'll deliver clear guidance on what to do – and what NOT to do – if you want to sell more photography and get more assignment work via your website. In addition, Grover will cover the essential marketing tactics you should be using today to get your work found online, like Search Engine Optimization basics and social networking.
Key website areas that will be discussed include:
Understanding your website's purpose/goal
Website best practices
Balancing creativity with functional needs
Do's and Don'ts with:

Flash slideshows & introductions
Image size
Layout
Background colors
Watermarks
Online pricing and e-commerce
Image delivery methods
Keyword search
Music
Navigation buttons
Don't design or buy a new website without this information!
Plus, attendees are invited to submit their websites for an opportunity for brief live critique.
Special offer for attendees:
All event attendees will receive a coupon for $30 off an Annual PhotoShelter Standard Account.
Who is this for?
Professional photographers and anyone aspiring to get there.
This is a free event but space is extremely limited. RSVP by email to specialevents@photoshelter.com. Spaces will be filled on a first come, first served basis. Please include your name, date of the event, and website URL if you would like to be critiqued during the session.
Biography:

Grover Sanschagrin
Grover Sanschagrin is Vice President of Business Development and co-founder of PhotoShelter. An industry veteran, Sanschagrin, who started his career as a photojournalist, has vast experience with online productions including major roles with SportsShooter.com, ChicagoTribune.com and the Quokka Sports Network (including NBCOlympics.com and FinalFour.net). Sanschagrin studied photography and photojournalism at the Rochester Institute of Technology and Ohio University. He has spoken at numerous industry conferences and universities with one goal: To educate photographers about the importance of building a successful online marketing strategy that will result in more image sales, and less time in front of a computer.
About PhotoShelter
PhotoShelter is the leader in portfolio display, e-commerce and archiving tools for photographers. Over 40,000 photographers worldwide use PhotoShelter to power their success online, with customizable website templates, searchable galleries, e-commerce capabilities, and bulletproof image storage. Create a professional PhotoShelter website in under five minutes, or customize PhotoShelter to power your existing website. A true solution designed to make the business of photography easier to manage - PhotoShelter offers security, global accessibility, and advanced marketing tools so photographers can make their images work harder for them.
To join our community, visit www.photoshelter.com.
Register:
Price: This is a FREE event
Schedule: Thursday, April 30, 2009 6:30PM - 8:30PM Doors open at 6:00PM
Location: The Adorama Building, 42 West 18th Street, 5th floor.

All registration is handled through PhotoShelter, RSVP by email to specialevents@photoshelter.com