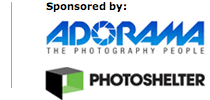 Beating the Recession:
Creative Tips to Help Grow Your Business During Tough Times
Grover Sanschagrin, Founder, VP of Business Development, PhotoShelter
All registration is handled through PhotoShelter, RSVP by email to specialevents@photoshelter.com
Program Description:
Newspapers are cutting staff, marketers are scaling back budgets, and even brides are looking to cut corners on wedding expenses – providing a less than rosy outlook for professional photographers. However, there's a very practical recipe to surviving in a tough economy: Resilience + Creativity + Flexibility. Those photographers who can adapt their businesses and marketing tactics will create new opportunities to thrive today, and position themselves for success when the economy recovers.
Join Grover Sanschagrin, PhotoShelter co-founder and VP of Business Development, for a discussion on creative ways photographers can be generating new business in today's economy. He'll share some basic strategies plus a few innovative ideas that will motivate you to get out of your comfort zone and test out new ways to grow your photography income. Along the way, he'll use plenty of examples of how PhotoShelter photographers are applying these tactics today.
Areas he'll cover include:
Using viral marketing to get your work seen by more prospective clients
Creating and marketing special, limited edition work
Pricing tactics
Selling personal use downloads instead of (or in addition to) prints
Uncovering new stock photography opportunities and themes
Getting your work found online with Search Engine Optimization
Allocating marketing resources in this economy
Special offer for attendees:
All event attendees will receive a coupon for $30 off an Annual PhotoShelter Standard Account.
Who is this for?
Professional photographers and anyone aspiring to get there.
This is a free event but space is extremely limited.
RSVP by email to specialevents@photoshelter.com Spaces will be filled on a first come, first served basis. Please include your name and date of the event.
Biography:

Grover Sanschagrin
Grover Sanschagrin is Vice President of Business Development and co-founder of PhotoShelter. An industry veteran, Sanschagrin, who started his career as a photojournalist, has vast experience with online productions including major roles with SportsShooter.com, ChicagoTribune.com and the Quokka Sports Network (including NBCOlympics.com and FinalFour.net). Sanschagrin studied photography and photojournalism at the Rochester Institute of Technology and Ohio University. He has spoken at numerous industry conferences and universities with one goal: To educate photographers about the importance of building a successful online marketing strategy that will result in more image sales, and less time in front of a computer.
About PhotoShelter
PhotoShelter is the leader in portfolio display, e-commerce and archiving tools for photographers. Over 40,000 photographers worldwide use PhotoShelter to power their success online, with customizable website templates, searchable galleries, e-commerce capabilities, and bulletproof image storage. Create a professional PhotoShelter website in under five minutes, or customize PhotoShelter to power your existing website. A true solution designed to make the business of photography easier to manage - PhotoShelter offers security, global accessibility, and advanced marketing tools so photographers can make their images work harder for them.
To join our community, visit www.photoshelter.com.
Register:
Price: This is a FREE event
Schedule: Wednesday, May 27, 2009 6:30PM - 8:30PM Doors open at 6:00PM
Location: The Adorama Building, 42 West 18th Street, 5th floor.

All registration is handled through PhotoShelter, RSVP by email to specialevents@photoshelter.com