Photowalking with Joe DiMaggio:
A New Beginning in Lower Manhattan
Registration deadline for this Workshop is July 17, 2011
Registered participants will be contacted by email on July 18, 2011 with the details for the Meeting Place and other pertinent information—please register with an email you check regularly so you receive the instructions promptly.
Event Description: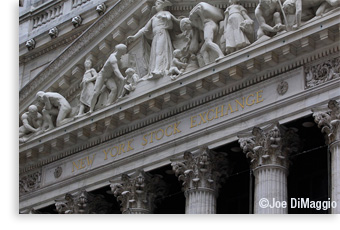 For this Photowalk, we'll be exploring areas of Lower Manhattan that have been undergoing revitalization in the nearly ten years since 9/11, it is an area that integrates the historic Wall Street Financial District and Trinity Church, as well as the vibrant renewal taking place at the World Trade Center site.
You'll be photographing such icons as the historic facades of the New York Stock Exchange and Federal Hall with George Washington's statue in the Wall Street area, plus street photography and architectural details along the way of the Canyon of Heroes.
During the stop at Trinity Church, one of the finest and earliest examples of Neo-Gothic architecture in the United States, you'll spend time photographing the beautiful interior, with stained-glass windows considered to be the oldest in the United States. The historic Trinity Churchyard, where notable figures including Alexander Hamilton, William Bradford, and Robert Fulton, among others are buried, is a green and quiet oasis on Lower Broadway that attracts visitors and locals alike.
And you'll continue this Photowalk to the World Trade Center site, where you'll be photographing the rebuilding of the site, home to the Freedom Tower and the National September 11 Memorial & Museum, as well as the surrounding streets and places of interest.
As always, each Photowalk takes on a life of it's own, so come prepared for an adventure, be flexible and enjoy!
*Itinerary may be subject to last-minute changes due to weather or other circumstances.
Requirements:
Equipment: You want to go as light as possible-really! Recommended lenses are one wide-angle zoom, preferably f/3.5 or faster, and one mid-range telephoto zoom preferably f/4 or faster. Bring more memory cards and batteries than you think you will use, a cleaning cloth, and a small strobe if you have one.
Clothing: Dress casually and comfortably for the weather of the day, with good walking shoes. If the weather forecast is warm/sunny, think sunscreen and a hat, and if the forecast is for rain, think raingear for you and your equipment.
Level: All levels, from Photo Enthusiasts to Aspiring Pros
Biography:

Joe DiMaggio
Joe DiMaggio's broad range of photographic work has been featured for over three decades in publications like Time, Sports Illustrated, U. S. News and World Report and hundreds of other publications. His flair for advertising photography has netted him a client list of Fortune 500 corporations and prestigious advertising agencies. From having one of his well-known images - a Sports Illustrated cover of the Cooney-Holmes fight named as picture of the year by Time magazine to receiving a coveted invitation to join the International Olympic Committee, Joe's talent, hard work and constant search for new and exciting pictures are readily apparent and constantly evolving. Equally at ease with pictures that move, DiMaggio has directed a number of commercials and short films. He recently directed a one-hour documentary special which aired on Discovery Channel's Shark Week, titled, "The Last Shark Hunter'.
DiMaggio's talent as a teacher has gained him a national reputation. He's been featured on ABC-TV's World of Photography and has hosted episodes of ESPN's Canon Photo Safari with celebrity guests William Shatner and A.J. Langer. He has lectured to thousands of aspiring photographers in workshops around the world and has taught at the Maine Photographic Workshop as well as conducting his own workshops with partner JoAnne Kalish.
For more information, please go to: www.dimaggio-kalish.com & www.dimaggio-kalishfineart.com
Register:
Price: $75.00
Schedule: Sunday, July 24, 2011 9:00AM - 1:00PM
Location: Registered participants will be contacted by email on July 18, 2011 with the details for the Meeting Place and other pertinent information.