Photowalking with Joe DiMaggio:
From the Staten Island Ferry to the Brooklyn Bridge
Registration deadline for this Workshop is July 17, 2011
Registered participants will be contacted by email on July 18, 2011 with the details for the Meeting Place and other pertinent information—please register with an email you check regularly so you receive the instructions promptly.
Event Description: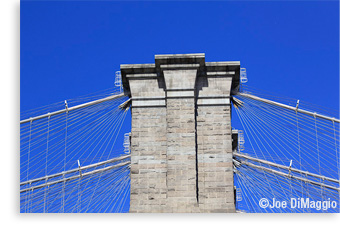 We'll start this Photowalk on what Joe likes to call his 'private yacht', the Staten Island Ferry. This five-mile sailing journey from the southernmost tip of Manhattan to Staten Island and the return, offer lots of photographic opportunities for shooting the city skyline, environmental portraits, graphics, as well as the color and action of people on the move.
Once back in Manhattan, you'll walk through and photograph on Lower Manhattan's historical streets and along the East River, making your way to the South Street Seaport, a 17th century landmark and the surrounding historical district, on the East River. The Seaport is a great place for street photography, colorful graphics and more. While on Pier 17's third-level deck you'll be able to see and photograph south to the Statue of Liberty, north to the Brooklyn Bridge, and Brooklyn Heights on the opposite shore.
And the next and last stop on this Photowalk is the majestic and iconic Brooklyn Bridge, where you'll be photographing it's distinctive and dramatic granite Gothic towers and steel suspender cables, pedestrians and bike riders on the walkways, and the striking city vistas and river views, all in all, a great place to end a great afternoon.
As always, each Photowalk takes on a life of it's own, so come prepared for an adventure, be flexible and enjoy!
*Itinerary may be subject to last-minute changes due to weather or other circumstances.
Requirements:
Equipment: You want to go as light as possible-really! Recommended lenses are one wide-angle zoom, preferably f/3.5 or faster, and one mid-range telephoto zoom preferably f/4 or faster. Bring more memory cards and batteries than you think you will use, a cleaning cloth, and a small strobe if you have one.
Clothing: Dress casually and comfortably for the weather of the day, with good walking shoes. If the weather forecast is warm/sunny, think sunscreen and a hat, and if the forecast is for rain, think raingear for you and your equipment.
Level: All levels, from Photo Enthusiasts to Aspiring Pros
Biography:

Joe DiMaggio
Joe DiMaggio's broad range of photographic work has been featured for over three decades in publications like Time, Sports Illustrated, U. S. News and World Report and hundreds of other publications. His flair for advertising photography has netted him a client list of Fortune 500 corporations and prestigious advertising agencies. From having one of his well-known images - a Sports Illustrated cover of the Cooney-Holmes fight named as picture of the year by Time magazine to receiving a coveted invitation to join the International Olympic Committee, Joe's talent, hard work and constant search for new and exciting pictures are readily apparent and constantly evolving. Equally at ease with pictures that move, DiMaggio has directed a number of commercials and short films. He recently directed a one-hour documentary special which aired on Discovery Channel's Shark Week, titled, "The Last Shark Hunter'.
DiMaggio's talent as a teacher has gained him a national reputation. He's been featured on ABC-TV's World of Photography and has hosted episodes of ESPN's Canon Photo Safari with celebrity guests William Shatner and A.J. Langer. He has lectured to thousands of aspiring photographers in workshops around the world and has taught at the Maine Photographic Workshop as well as conducting his own workshops with partner JoAnne Kalish.
For more information, please go to: www.dimaggio-kalish.com & www.dimaggio-kalishfineart.com
Register:
Price: $75.00
Schedule: Sunday, July 24, 2011 2:00PM - 6:00PM
Location: Registered participants will be contacted by email on July 18, 2011 with the details for the Meeting Place and other pertinent information.