Photowalking with Joe DiMaggio: Exploring Governors Island
Instructor: Joe DiMaggio
Registration deadline for this Workshop is May 30, 2011
Registered participants will be contacted by email on May 31, 2011 with the details for the Meeting Place and other pertinent information—please register with an email you check regularly so you receive the instructions promptly.
Event Description: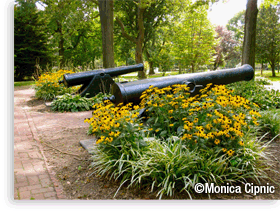 Governors Island, a unique destination and a world unto itself, sits in New York Harbor between Lower Manhattan and Brooklyn. Accessible only by ferry, the island of 172 acres, is steeped in history.
From the earliest days of settlement, the island, with its very strategic location, has resulted in its use as a military base for over 200 years, until the US sold most of it to the people of New York for one dollar in 2003. With structures such as Fort Jay, first built as a series of earthen forts in 1776 and 1794, and later rebuilt in 1806 and 1812, to the Governor's House built in 1813, to various buildings constructed from the 1800s to the 1940s, 92 acres have been designated a National Historic Landmark District.
Presently open only 3 days a week from June to October, the island offers a rich assortment of photographic possibilities; 52 historic landmark buildings, acres of parkland and parade ground, artists' installations, performances, and sweeping vistas of New York harbor and New York City from the promenade that encircles the island.
To visit Governors Island is at once a journey through history, touring a largely undiscovered island in the city environs, and altogether, a great destination for a photographic adventure.
Additional Information
For this Workshop we will take a ferry from the Battery Maritime Building located at 10 South Street in Lower Manhattan adjacent to the new Staten Island Ferry terminal. [The ferry runs only once an hour—so be prompt to the Meeting Place!]
*Very Important: Do bring your own water; there isn't any drinking water from taps or fountains on the island. While there are some food kiosks scattered on the island, you might want to pack a lunch, snacks, and other beverages you want to have during the day.
Requirements:
Equipment: This is a full day of walking and carrying your equipment—you want to go as light as possible, seriously less is more, don't carry what you won't be using.
The basic fundamental rules apply: one camera, two lenses (wide-angle zoom, preferably f/3.5 or faster, and one mid-range telephoto zoom preferably f/4 or faster) more batteries and cards than you expect, and a cleaning cloth. And if you're accustomed to using a monopod, bring one for long lenses only—no tripods please.
Also, you will have to go through airport like security to board the ferry to the island—no knives, sharp objects, cleaning kits, etc., the authorities have the right to confiscate any and all items they find objectionable.
Clothing: Dress casually and comfortably, with good walking shoes. We will mainly be outdoors so bring appropriate clothing for the weather of the day—hats, sunscreen, etc.
Level: All levels, from Photo Enthusiasts to Aspiring Pros
Biography:

Joe DiMaggio
Joe DiMaggio's broad range of photographic work has been featured for over three decades in publications like Time, Sports Illustrated, U. S. News and World Report and hundreds of other publications. His flair for advertising photography has netted him a client list of Fortune 500 corporations and prestigious advertising agencies. From having one of his well-known images - a Sports Illustrated cover of the Cooney-Holmes fight named as picture of the year by Time magazine to receiving a coveted invitation to join the International Olympic Committee, Joe's talent, hard work and constant search for new and exciting pictures are readily apparent and constantly evolving. Equally at ease with pictures that move, DiMaggio has directed a number of commercials and short films. He recently directed a one-hour documentary special which aired on Discovery Channel's Shark Week, titled, "The Last Shark Hunter'.
DiMaggio's talent as a teacher has gained him a national reputation. He's been featured on ABC-TV's World of Photography and has hosted episodes of ESPN's Canon Photo Safari with celebrity guests William Shatner and A.J. Langer. He has lectured to thousands of aspiring photographers in workshops around the world and has taught at the Maine Photographic Workshop as well as conducting his own workshops with partner JoAnne Kalish.
For more information, please go to: www.dimaggio-kalish.com & www.dimaggio-kalishfineart.com
Register:
Price: $175.00
Schedule: Sunday, June 5, 2011 9:00AM - 5:00PM

Registered participants will be contacted by email on May 31, 2011 with the details for the Meeting Place and other pertinent information—please register with an email you check regularly so you receive the instructions promptly.