Photowalking with Joe DiMaggio: The High Line
Joe DiMaggio
Registration deadline for this Workshop is May 13, 2012
*Registered participants will be contacted by email with details for the Meeting Place and other pertinent information on May 14, so remember to register with an email you check regularly. Also please note that meals are not included in the Workshop price.
Event Description: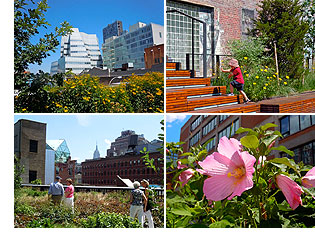 The High Line is New York City's most recently opened and celebrated public park space. Located on Manhattan's West Side, this historic, elevated former freight train line presently runs from Gansevoort Street in the Meatpacking District to 30th Street in Chelsea.
With the rise of popularity in the Chelsea area in mid 1980s, where so many galleries had opened and real estate interests abounded, this neglected historic structure was under threat of demolition. In 1999, when thanks to the community-based non-profit group called Friends of The High Line that formed that year (they maintain and operate the High Line today), this formerly abandoned eyesore was granted a second life that began in 2009, as a unique and beautiful park setting. And since it's opened, the High Line has drawn millions of visitors to its distinctive combination of elevated walkways, natural landscaping and seating areas, vantage points of the city skyline, streets and river, great people watching, and to the ever changing and highly acclaimed public art installations.
This will be a day of photo exploration as we meander throughout the park, and the shooting possibilities are endless on what we may encounter along the way. Joe will give you his insightful tips and advice on how to make your photographs more meaningful, rather than merely recording the place or scene. In addition to photographing the inviting landscapes, and architectural details, there will be beautiful overviews of the city and river to shoot. Along the way you will invariably come across interesting people and situations, and Joe will offer helpful suggestions on how to photograph people, and take your candid street photography to the next level by bringing in extra dimensions and ideas you probably never would have thought about. After walking the High Line, you'll be exploring along the cobblestone streets of the Meatpacking District, photographing one of the most vibrant sections of the city.
All in all, this will be a full and exciting day photographing and enjoying this wonderful park and surrounding neighborhood, and for Joe, since every Workshop takes on a life of it's own, come prepared to be flexible and have fun, this is sure to be a great adventure!
*Please note: Itinerary may be subject to last-minute changes due to weather or other circumstances.
Requirements:
Equipment: You want to go as light as possible-really! Bring one camera and one wide-angle zoom and one mid-range zoom (i.e., 10-22mm, 16-35mm, 24-70mm or 70-200mm) lenses.
Bring plenty of memory cards, extra batteries, a cleaning cloth, some filters (polarizing if it's a sunny day), plastic bags for your gear if it's inclement weather, and on-camera flash or strobe unit are optional.
Please: NO rolling cases and NO large backpacks.
Clothing: We will mainly be outdoors so dress casually and comfortably for the weather of the day--and don't forget good walking shoes, remember, this is a full day of walking and photographing
Level: All levels, from Photo Enthusiasts to Aspiring Pros.
Biography:

Joe DiMaggio
Joe DiMaggio's broad range of photographic work has been featured for over three decades in publications like Time, Sports Illustrated, U. S. News and World Report and hundreds of other publications. His flair for advertising photography has netted him a client list of Fortune 500 corporations and prestigious advertising agencies. From having one of his well-known images - a Sports Illustrated cover of the Cooney-Holmes fight named as picture of the year by Time magazine to receiving a coveted invitation to join the International Olympic Committee, Joe's talent, hard work and constant search for new and exciting pictures are readily apparent and constantly evolving. Equally at ease with pictures that move, DiMaggio has directed a number of commercials and short films. He recently directed a one-hour documentary special which aired on Discovery Channel's Shark Week, titled, "The Last Shark Hunter'.
DiMaggio's talent as a teacher has gained him a national reputation. He's been featured on ABC-TV's World of Photography and has hosted episodes of ESPN's Canon Photo Safari with celebrity guests William Shatner and A.J. Langer. He has lectured to thousands of aspiring photographers in workshops around the world and has taught at the Maine Photographic Workshop as well as conducting his own workshops with partner JoAnne Kalish.
To see more of Joe's work, visit: dimaggio-kalish.com
Register:
Price: $125.00
Schedule: Sunday, May 20, 2012 10:30AM - 4:00PM
Location: Registered participants will be contacted by email with details for the Meeting Place and other pertinent information on May 14, so remember to register with an email you check regularly.