Special Event Sponsored by Adorama and Nikon

The Light and Location: An Evening with Joe McNally
Thursday, May 8, 2008 6:30PM - 9:00PM
Price: $25.00
Registration deadline for this Workshop is May 1, 2008
Each attendee will receive a $25.00 coupon at the event in exchange for a copy of their registration receipt. The coupon will be valid for 30 days towards the purchase of any merchandise when presented at either Adorama's retail store at 42 West 18th Street, New York, or for an online purchase at www.adorama.com
Event Description: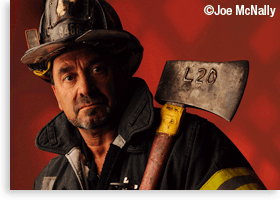 From his days in New York as a B&W news photographer to the present as a globetrotting magazine photographer, the one consistent element of Joe McNally's career has been the creative use of light to tell stories about people and places. Always the generalist, Joe has tackled subjects as diverse as John Glenn's return to space and the 100th Anniversary of Flight for the National Geographic, Michelle Pfeiffer and Steve Martin for LIFE, as well as Papal visits, elections, and Olympics for Sports Illustrated, Time and Newsweek. His 1996 project for LIFE, "Naked Power, Amazing Grace", a series of nudes of members of the United States Olympic team, prompted the magazine to produce 4 separate covers in one month, a first in the magazine's storied history. In the aftermath of the 9/11 tragedy, McNally applied his storytelling abilities and technical expertise to the world's only giant Polaroid camera, producing a remarkable document portraying the heroes of that day in life size, 4'x9' Polaroid prints. The resulting exhibit opened in NY's Grand Central Station and made a tour of 6 cities, returning to NY and staging at Rockefeller Center for the first anniversary of 9/11.
The diversity and arc of McNally's career is currently represented in the best selling book, The Moment It Clicks, a book described as having one foot in the classroom and one foot on the coffee table. In his talk Joe will discuss his career and the book, lessons learned, personalities encountered, problems solved, good days and bad days in the field, and the well traveled life of a photojournalist. He will talk about light as the language of photography, and how to speak with it, recognize it, and manage it effectively, as well as show pictures from stories shot with a variety of Nikon cameras and lenses over his shoulder to images resulting from larger productions involving large crews and several days of lighting and staging. Joe is very honored to have been chosen to be one of the lead photographers to work and create images with Nikon's new D3 camera system. Widely renowned for his insights and sense of humor, Joe will offer tips, advice and anecdotes gained from riding backseat with the Blue Angels to lighting Ellis Island for the National Geographic to dangling a movie star on a wire from a helicopter hovering 500' above the Hollywood sign.
Don't miss this exciting event with Joe McNally, please register early, seating is limited.
.
Biography:

Joe McNally
Joe McNally is an internationally acclaimed American photographer and long-time photojournalist. From 1994 until 1998, he was LIFE magazine's staff photographer, the first one in 23 years.
His most well known series is the "Faces of Ground Zero — Portraits of the Heroes of September 11th", a collection of 246 giant Polaroid portraits shot in the Moby c Studio near Ground Zero in a three-week period shortly after 9/11. A large group of these historic, compelling life-size (9' x 4') photos were exhibited in seven cities in 2002, seen by almost a million people. The sale of 55,000 copies of the exhibit book, printed by LIFE, raised over $2 million for the 9/11-relief effort. This collection is considered by many museum and art professionals to be the most significant artistic endeavor to evolve to date from the 9/11 tragedy.
Some of McNally's other renowned photographic series include, "The Future of Flying," a cover & 32-page story, commemorating the centennial observance of the Wright Brothers' flight and the future of aviation, which appeared in National Geographic Magazine, December 2003. Joe is a 25-year contributor to National Geographic, and this story was the first all digital shoot for the magazine. This issue was a National Magazine Award Finalist, and the magazine's best-selling issue ever. In 2005 Joe shot a photo diary of the New York City Opera's historic first tour to Japan as part of the World Expo 2005.
Joe's work has won numerous awards, and appeared in a variety of publications, advertising campaigns, books and more, including: Nikon, New York Times, National Geographic, Sony, Newsweek, ESPN Magazine, Land's End, Discover, Life Books, MetLife, Bogen, Haggin Marketing, Lifetime, AGA Marketing, Wildlife Conservation Society, American Ballet Theatre, Men's Journal, LIFE, and Fast Company,
Joe McNally is known internationally for his ability to produce technically and logistically complex assignments with expert use of color and light. As part of his teaching activities, he conducts numerous workshops around the world.
To see more of Joe's work, please go to: www.joemcnally.com
Register:
Price: $25.00
Each attendee will receive a $25.00 coupon at the event in exchange for a copy of their registration receipt.
The coupon will be valid for 30 days towards the purchase of any merchandise when presented at either Adorama's retail store at 42 West 18th Street, New York, or for an online purchase at www.adorama.com
Schedule:Thursday, May 8, 2008 6:30PM - 9:00PM
Location: The Adorama Building, 42 West 18th Street, 5th floor.