Digital Food Photography: Creating Delectable Images
Lou Manna
Registration deadline for this Workshop is November 2, 2008
Course Description: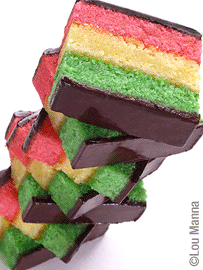 Are you hungry for a new set of photographic skills? Creating images of food that 'look good enough to eat' is Lou Manna's forte, and in this Workshop he will teach you the fundamentals of food photography, including metering, lighting, styling, composing, propping, and choosing backgrounds that will make your work distinctive. This is a great opportunity to learn from one of the best in the business, as he shares his approaches, techniques, and special tricks for photographing different types of foods. Additional topics to be discussed are lighting set-ups for shooting food on location vs. the studio and the importance of modifying your style depending on your client.
You will be working in Lou's studio, which is equipped with a full commercial kitchen and a complete shooting space, where you'll be using a range of lights, reflectors and mirrors to create your photographs. During the shoot, your images will be viewed on a 40" Hi Definition Monitor for instant feedback.
Requirements:
Familiarity with your digital SLR; bring a DSLR with a close-focusing or macro lens and the wire to connect to a composite RCA video input. Please bring a selection of photographs that you've shot. Additionally, bring items for note taking in this hands-on Workshop.
Level: Advanced Beginner, Intermediate, Aspiring Pro
Note: This Workshop is limited to 10 participants
Biography:

Lou Manna
Lou Manna's award-winning photographs have appeared in national ad campaigns, major magazines and over thirty cookbooks. While working as a photojournalist for the New York Times, Lou developed a passion for food photography as he was creating appealing images to accompany reviews by noted food critic and cookbook author, Craig Claiborne. Lou went on to establish his own studio on Fifth Avenue in Manhattan where he has produced thousands of digital images while working with a wide range of major advertising, corporate and restaurant clients including Barilla, Kraft Foods, Marriott, Starbucks, Kellogg's and Coca Cola. Honored to be one of an elite group of Olympus Visionary photographers, Lou recently authored Digital Food Photography, which is the only book on the art of food photography devoted exclusively to digital techniques: www.digitalfoodphotos.com
His web address is: www.loumanna.com
Register:
Price: $250.00
Schedule: Sunday, November 9, 2008 10:00AM - 5:00PM
Location: Lou Manna's Studio at 126 Fifth Avenue in the Flatiron District, one block from Adorama.