Special Event Sponsored by Adorama and Nikon

Catching the Action:
From Sports Events to the Concert Stage
An Evening with David Bergman
Registration deadline for this event is July 10, 2012
Each attendee will receive a $25.00 coupon at the event in exchange for a copy of their registration receipt.
The coupon will be valid for 30 days towards the purchase of any merchandise when presented at either Adorama's retail store at 42 West 18th Street, New York, or for an online purchase at www.adorama.com
Event Description: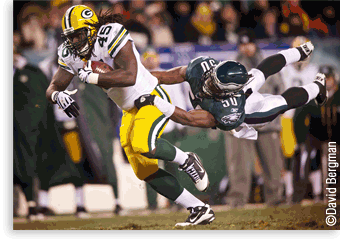 Join David Bergman as he talks about his photography, and life on the road with rock bands and at the biggest sporting events in the world. During this special presentation, he will discuss how he captured some of his favorite images during his nearly 25-year career as a photographer for clients including Bon Jovi and Sports Illustrated.
A consistent theme in David's work has been his ability to gain access and shoot events in an unconventional manner. He made some of his most famous high impact photographs because he's willing to take chances and use technology to his advantage. During tonight's event, David will talk about using long lenses to get closer to the action, putting remote cameras in unusual places, and using small Nikon Speedlights to make high-impact portraits. Join David for a fun evening that will inspire you to take more risks with your photography.
Biography:

David Bergman
New York based editorial and commercial photographer David Bergman is best known for his tour photography, portraiture, and sports imagery.
A former Miami Herald staff photographer, he is now Bon Jovi's tour photographer and has worked with celebrity clients including Drew Carey, Avril Lavigne, Gloria Estefan, and Joss Stone.
Sports Illustrated is a regular client, and he has 12 covers to his credit including the 2010 Super Bowl. His panoramic Gigapan image of President Obama's inauguration was viewed online over 15 million times, and he has made similar high-resolution images at the World Series, Super Bowl, and Final Four.
Bergman has produced still and video projects for companies including FremantleMedia, Embassy Row, EMI, and SONY Music and has been published in Rolling Stone, Time, Newsweek, People, Entertainment Weekly, Blender, USA Today, and The New York Times.
To see more of David's work, visit: davidbergman.net
Register:
Price: $25.00
Each attendee will receive a $25.00 coupon at the event in exchange for a copy of their registration receipt.
The coupon will be valid for 30 days towards the purchase of any merchandise when presented at either Adorama's retail store at 42 West 18th Street, New York, or for an online purchase at www.adorama.com
Schedule: Wednesday, July 11, 2012 5:30PM - 7:30PM
Location: The Adorama Building, 42 West 18th Street 5th floor.