Special Event Sponsored by Adorama and Nikon

An Evening with Ron Magill: Walk on the
Wild Side- The Joys of Wildlife Photography
Ron Magill, Zoo Goodwill Ambassador, Zoo Miami, Miami FL

Registration deadline for this Special Event is November 15, 2010
Each attendee will receive a $25.00 coupon at the event in exchange for a copy of their registration receipt.
The coupon will be valid for 30 days towards the purchase of any merchandise when presented at either Adorama's retail store at 42 West 18th Street, New York, or for an online purchase at www.adorama.com
Seminar Description: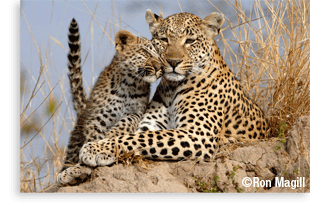 From the exhibits in your local zoo to the peak of Mt. Kilimanjaro, Ron will show you how to get the best out of wildlife photography while having the time of your life! Whether photographing polar bears in the sub-freezing temperatures of northern Canada or tigers in the sweltering forests of India, Ron has been able to capture wildlife in a way that has inspired people around the world. He will share with you his expertise about the wildlife he photographs, that will give you the knowledge to better understand your subjects and in turn be ready to capture that special moment. Ron will discuss the equipment he brings with him into the field, how he uses it (and abuses it!), and how to decide what to use and when.
Ron uses photographs to tell stories that reveal the dreams he had as a small boy growing up in New York watching episodes of "Wild Kingdom" on Sunday evenings - dreams he has now been able to live and share through photography. More importantly, he will show you how you can capture wonderful moments that happen in the natural world every day. This presentation is for anyone with a sense of adventure who wants to be inspired by our world's wildlife and who in turn wants to inspire others through the power of photography.
Biography:

Ron Magill
Ron Magill has worked with wildlife for over 30 years and has had the privilege of having hands-on experience with a tremendous variety of animals ranging from crocodiles to eagles to cheetahs. As Zoo Miami's "Goodwill Ambassador," he has made frequent television appearances on many programs including, National Geographic Explorer, the Today Show, Good Morning America, NBC Nightly News, The Late Show with David Letterman, CBS' The Early Show, Dateline, and CNN.
Ron is also a guest on several Spanish language television programs including international hits Sabado Gigante and Despierta America. In addition, he has written and produced many wildlife articles and award-winning photographs that have appeared in local, national, and international publications as well as the Smithsonian Museum of Natural History. Ron has traveled extensively throughout Africa, India, and Tropical America while developing and directing award-winning conservation projects and television documentaries focusing on the wildlife of those regions.
His website: ronmagillwildlife.com
Register:
Price: $25.00
Each attendee will receive a $25.00 coupon at the event in exchange for a copy of their registration receipt.
The coupon will be valid for 30 days towards the purchase of any merchandise when presented at either Adorama's retail store at 42 West 18th Street, New York, or for an online purchase at www.adorama.com
Schedule:
Wednesday, November 17, 2010 5:30PM - 8:00PM
Location:
The Adorama Building, 42 West 18th Street, 5th floor.