Special Event Sponsored by Adorama and Olympus

Reinvention: A Photographer's Journey
An Evening with John Isaac
Registration deadline for this event is September 25, 2011
Each attendee will receive a $25.00 coupon at the event in exchange for a copy of their registration receipt.
The coupon will be valid for 30 days towards the purchase of any merchandise when presented at either Adorama's retail store at 42 West 18th Street, New York, or for an online purchase at www.adorama.com
Event Description: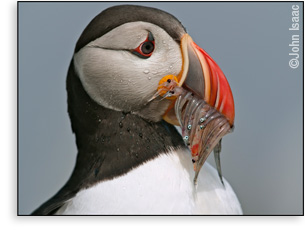 John Isaac spends his time now traveling the globe photographing wildlife; from the tigers of India to the hippos of Zambia, the snow monkeys in Japan to puffins in Maine and more, John is following his passion.
After twenty years of photographing for the UN in many of the world's conflict areas, documenting the lives and struggles of the people, in man-made or natural disasters, John a sensitive, compassionate, and artistic soul, had had enough of that aspect of photojournalism that had won him awards, he needed a change, a new direction for his life and to enjoy photography again.
After leaving the UN position because of feeling depressed over the circumstances of some assignments, John saw a butterfly on a sunflower in a neighbor's yard, and of course he photographed it–and the butterfly's beauty, resting peacefully on that sunflower resonated within him, rejuvenated him, and launched John on his new journey as a wildlife photographer.
He has always loved animals and even trained for a time as a vet, and as a native of Chennai, India, John has a special affinity and protectiveness for the Indian tigers, the subject of many of his journeys, and a soon to be published monograph. His wildlife photos stand out because whether he is waiting for the right light, or animal's gesture, he has mastered the art of composition while shooting much of his work handheld, a formidable combination.
During this evening's presentation of his beautiful wildlife imagery taken in the past decade, and much of it unpublished, plus highlights from some of his UN assignments, John will talk about the art of seeing, and how composition and working the scene or situation can help you come away with the kinds of memorable images that pros strive to achieve.
Always a very popular speaker, John has a terrific following and with a documentary by JIB being shot on him and his work, most recently in Japan, and the news that the George Eastman House will be establishing an archive of his life's work, this event is one you don't want to miss!
Biography:
John Isaac
Based in New York, John Isaac worked for the United Nations as a photographer for 20 years, traveling to 100 countries, and retired in 1998 as the photo chief. Presently he freelances for magazines, publishers, and a variety of clients including Olympus, where is an Olympus Visionary, Lexar, and Lowepro. His book, The Vale of Kashmir, was published in 2008. John has won numerous awards and had his worked exhibited around the world.
"In many cultures, people believe that when you take someone's picture you take away their souls. As a photojournalist, I am aware of that. From my early photography career I was also concerned about the dignity of the individuals that I photographed. It was, and always will be, important for me that I did not take away someone's dignity in my pictures." John Isaac
To see more of John's work, visit: johnisaac.com
For more information, visit: olympusamerica.com
Register:
Price: $25.00
Each attendee will receive a $25.00 coupon at the Event in exchange for a copy of their registration receipt.
The coupon will be valid for 30 days towards the purchase of any merchandise when presented at either Adorama's retail store at 42 West 18th Street, New York, or for an online purchase at www.adorama.com
Schedule:
Monday, September 26, 2011 5:30PM - 7:30PM
Location:
The Adorama Building, 42 West 18th Street, 5th floor.