Special Event Sponsored by Adorama
Run and Gun Street Photography
An Evening with Rick Sammon
Registration deadline for this event is June 15, 2011
Each attendee will receive a $25.00 coupon at the event in exchange for a copy of their registration receipt.
The coupon will be valid for 30 days towards the purchase of any merchandise when presented at either Adorama's retail store at 42 West 18th Street, New York, or for an online purchase at www.adorama.com
Event Description: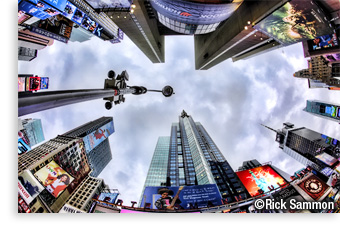 As a prelude to his Times Square photo shoot on June 18th (see more info), Rick Sammon will share his best street shooting tips during this fun-filled presentation. Rick has been to some of the most picturesque cities on the planet: Old Havana, Cuba; San Miguel de Allende in Mexico, Amsterdam, and Miami's South Beach, during his extensive travels. On all his travels, he has documented the cityscapes and people, and in the digital darkroom, he has enhanced his images and created HDR images.
In his talk, Rick will cover the following topics: street shooting, HDR, daylight fill-in flash, people photography, low-light shooting, using reflectors and diffusers, choosing different lenses, and much more.
Armed with Rick's informative and insightful technical tips, as well as with some of his photo philosophies, you'll be able to turn your snapshots into great shots whether you're in New York City or traveling around the world.
Always a very popular speaker, Rick's events sell out quickly, so don't miss this great opportunity!
Biography:

Rick Sammon
Canon Explorer of Light Rick Sammon has published 36 books, including HDR Secrets for Digital Photographers. Rick also has 6 apps, for the iPhone and iPad; the most recent is his iPad app, 'Rick Sammon's HDR Portfolio', which features Rick's latest HDR images. Rick, who has photographed in almost 100 countries around the world, gives more than two-dozen photography workshops (including private workshops) and presentations around the world each year, which he says is a blast. Rick also hosts five shows on kelbytraining.com. Rick, who has been nominated for the Photoshop Hall of Fame, is considered one of today's top digital-imaging experts. When asked about his photo specialty, Rick says, "My specialty is not specializing."
For more info, see:
ricksammon.com
Register:
Price: $25.00
Each attendee will receive a $25.00 coupon at the event in exchange for a copy of their registration receipt.
The coupon will be valid for 30 days towards the purchase of any merchandise when presented at either Adorama's retail store at 42 West 18th Street, New York, or for an online purchase at www.adorama.com
Schedule: Thursday, June 16, 2011 5:30PM - 7:30PM
Location: The Adorama Building, 42 West 18th Street 5th floor.