Wedding Photography: Increase Your Profits Through Creative Posing
and Better Business Practices
Steve Sint
Sundays, May 18 and June 1, 2008 10:00AM - 5:00PM
Price:
$300.00
[All model and prop fees are included]
Discount Price: $270.00
Registration deadline for this Workshop is May 11, 2008
Course Description: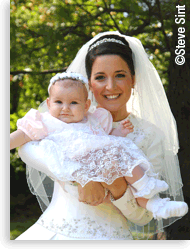 This two-day intensive Workshop with well-known photographer and author Steve Sint, offers you an exciting opportunity to learn the most important aspects of being a successful wedding photographer, from both a creative and a business perspective.
On the first day, the focus will be on photographic technique. You'll be working with live models and mannequins, and you'll learn how to make your pictures look better and more professional than your competition. You'll learn what to do when the couple or caterer gives you 15 (or 30) minutes for posed pictures, how to make your subjects look better, and make your pictures pop off the page. Steve will show you how to use a second, third, or fourth flash so that your photos appear more three-dimensional and more flattering than the pictures the guests take with their digital cameras.
On the second day, you'll find out how to make $500 an hour instead of $500 per day! Steve will tell you how to 'make it' in this exciting career; you'll learn how to control your costs, save your time, generate leads and increase your profitability for success.
Requirements:
Participants should bring a digital SLR with a fully charged battery and a mid-range zoom lens. You will need a CF or SD card large enough and fast enough to allow for both shooting and using your camera as a visual notebook. Additionally, you should bring 3-7 prints from your portrait/wedding portfolio.
Also bring items for note taking during this hands-on Workshop.
Level: Advanced Beginner and up
Biography:

Steve Sint
Steve Sint has spent a great deal of his life walking down the aisle backwards while photographing over 3,500 weddings on planet Earth. His commercial studio has produced numerous national ads, catalogs, and over 1,000 executive portraits. Steve's words and photographs have appeared in major photographic publications and the Adorama website.
His photographs have also appeared on over 60 magazine covers including Life and Omni. Steve has authored three books on photography and one, Wedding Photography: Art, Business, and Style, is in the second printing of its second edition. Currently he shoots over 100 assignments a year and still finds time to lecture on professional photography and conduct workshops for aspiring photographers.
Register:
Price: Price: $300.00 [All model and prop fees are included]
Schedule: Sundays, May 18 and June 1, 2008 10:00AM - 5:00PM
Location: The Adorama Building, 42 West 18th Street, 5th floor.