Speedliter's Intensive: Creating Great Photos With Canon Speedlites
Syl Arena
Registration deadline for this Workshop is March 10, 2010
Course Description: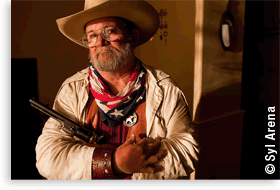 Are you looking to create better photos with your Canon Speedlites? In this fast paced Workshop, Syl Arena will demonstrate a wide range of gear and techniques for digital flash photography with Canon Speedlites. Beginning with discussions of the character of light-both the light around us and the light we can create-Syl will move through a series of demonstrations on the many looks you can create with a single Speedlite, and share with you his unique strategies for using multiple Speedlites.
He will discuss the when and how of using Speedlites in both manual and the E-TTL settings, and moving them off-camera in both corded and wireless situations. You'll learn how to use a wide range of modifiers on the Speedlites-including umbrellas, softboxes, grids and snoots. And he will discuss and demonstrate how to mix Speedlites with other sources of light and how to use gels for color-correction and dramatic effect.
For Syl, since technique alone doesn't make for memorable images, it's the knowing how to incorporate the technical features of Speedlites as well as the when and why of using them to pursue your vision--what he calls 'Speedliter's vision'. For this important concept, he'll explain how you can get the 'vision' that makes the difference in creating great photographs.
This will be a day full of new ideas, and Syl has prepared a copy of 'Syl's Speedliter's Intensive Workbook' which will cover everything in the Workshop and more, for each participant to take home.
Requirements:
The Speedliter's Intensive is suited for anyone looking to move beyond their pop-up flash and understand how to use Canon Speedlites. It is very helpful to have a basic understanding of your Canon camera. You do not need to bring a camera or lighting gear to this Workshop (although you are welcome to do so).
Attendees should bring items for note-taking during this Workshop.
There will be a brief lunch break during the day, participants who bring their lunches will enjoy an informal Q&A session with Syl.
Level: Advanced Beginner and up
Biography:

Syl Arena
Syl Arena is known internationally for his blog, PixSylated.com, and his many articles on innovative Canon flash techniques. In Longarm and Metalhead, Syl shared his pioneering set-up for using Canon Speedlites and softboxes on extendable poles. In Smashing Pumpkins, he demonstrated how to simultaneously fire a dozen Speedlites and freeze action with high-speed sync. His Canon Speedlite Wishlist started a global dialogue on the features of Canon Speedlites that has attracted comments from hundreds of photographers.
A lifelong Canon photographer, Syl uses Speedlites routinely in his commercial work-photographing the people, lifestyles, and products of California's Central Coast wine district for editorial and corporate clients. Syl is a popular workshop instructor. His expertise in Canon flash is so extensive that last summer Nikon's CLS-master Joe McNally brought Syl in as the guest instructor to support the Canon shooters at his Dobbs Ferry Workshop series. Syl also serves as Director of the Paso Robles Workshops-a boutique workshop program that produces weeklong programs with leading photographers such as Joe McNally and David Hobby.
Syl is the author of Lessons I Didn't Learn In Photo School and his latest book, due out in June 2010 is the Speedliter's Handbook: Learning to Craft Light with Canon Speedlites (Peachpit Press).
His website addresses: sylarena.com, & pixsylated.com
Register:
Price: $150.00
Schedule: Sunday March 14, 2010 10:00AM - 5:00PM
Location: The Adorama Building, 42 West 18th Street 5th floor.