Tamara Lackey: Contemporary Children's Photography
Tamara Lackey, photographer
Registration deadline for this Workshop is June 1, 2011

Event Description: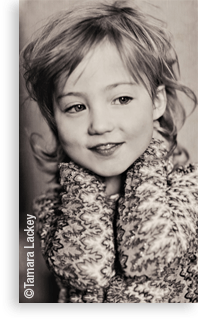 Consistently capturing images of children that are authentic, expressive and technically strong is often more challenging than it appears. Join Tamara Lackey who has shot over 1,000 children's photography sessions, as she walks you through the specifics of how she photographs during the sessions, including behind-the-scenes footage of actual shoots, with an emphasis on shooting cleaner, knocking out problems before they arise-or as they occur-and connecting with your subjects more quickly, which is so important when working with children.
If you are interested in the subject of children's portraiture--one of the top three most popular subjects for professional photographers--then this event is not to be missed!
Biography:

Tamara Lackey
Tamara Lackey has a passion for imagery and education, running a successful associate-based business in North Carolina and speaking at workshops and conventions around the world. Her award-winning work has been described as "expressive, soulful, funny, beautiful," and she has been featured repeatedly in top industry publications like Rangefinder, Professional Photographer, and ImageMaker Magazines. Her work has appeared in Vogue, O - The Oprah Magazine, Town & Country, Food & Wine, and Parenting Magazine, and her imagery has been showcased on NBC's "The Martha Stewart Show" and ABC's "Extreme Makeover: Home Edition."
Tamara is the author of the top-selling "The Art of Children's Portrait Photography," reprinted in seven languages and called by Shutterbug Magazine "an inspiration…some of the best kid's portraits I've seen." Her newest book is "Tamara Lackey's Capturing Life Through (Better) Photography", and her instructional videos include the companion DVD, "Capturing Life Through (Better) Photography", the Kubota Artist Series' post-processing guide, the "Tamara Lackey Style Book" and the highly acclaimed "Inside Contemporary Children's Photography."
To see more of her work please go to:
tamaralackey.com
capturinglifebetter.com
Register:
Price: $35.00
Schedule: Friday, June 3, 2011 11:30AM - 1:30PM
Location: The Adorama Building, 42 West 18th Street 5th floor.